Discover Beautiful Berlin, New Jersey - You'll Love Calling it Home!
---
Taylor Woods is conveniently located near upscale shopping, dining, and entertainment, just minutes from NJ Transit Train Service to Philadelphia & Atlantic City.
With convenient public transportation to major city centers just around the corner, and quaint, historic Downtown Berlin minutes away, you can experience a little bit of everything.
Taylor Woods Apartment Homes are located on Route 73 North, in between Factory & Cooper Folly Rd., 2.3 miles from Atco Train Station.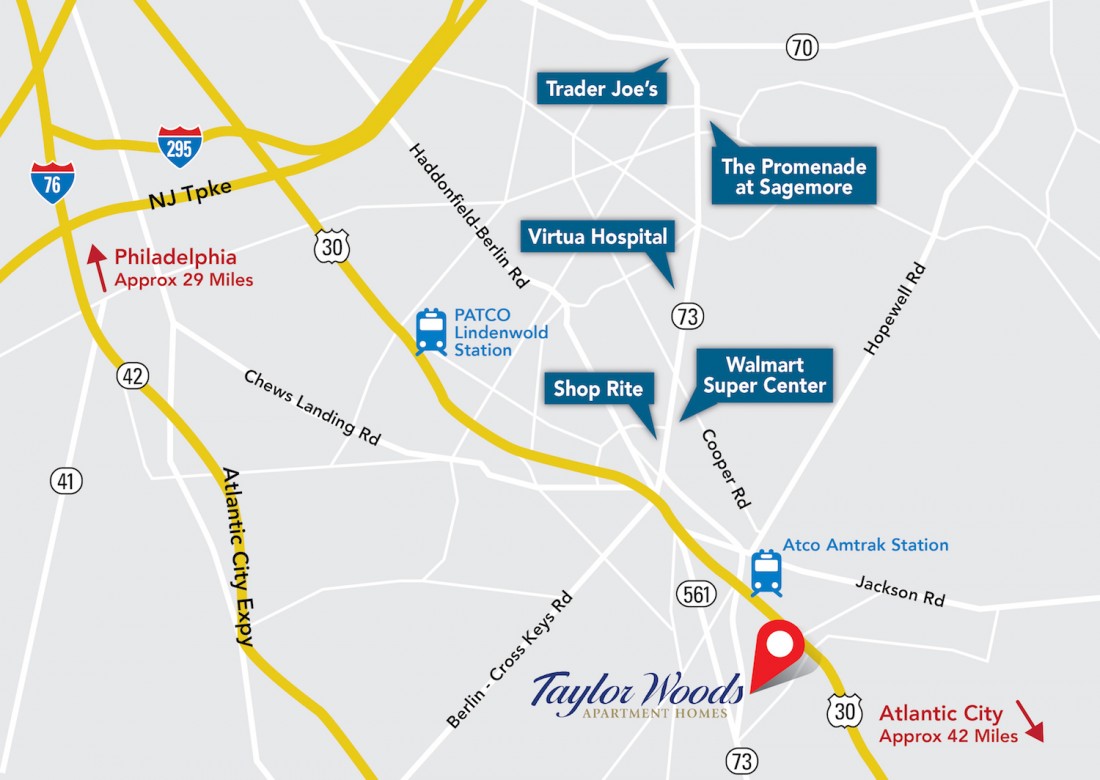 ---
What's in the Area?
Taylor Woods' exceptional Route 73 location is within minutes of the area's most popular shopping, dining, retail and entertainment destinations, as well as the area's leading healthcare facilities. If that isn't enough, it's also an easy commute to Philadelphia and the South Jersey shore!
---
Choose a Category to Discover What's Nearby
Theater
Forrest Theatre
1114 Walnut St
Philadelphia, PA 19107
215-923-1515
forrest-theatre.com
Kimmel Center
300 S Broad St
Philadelphia, PA 19102
215-790-5800
kimmelcenter.org
The Eagle Theatre
208 Vine Street
Hammonton NJ 08037
609-704-5012
theeagletheatre.com
Entertainment - Local & Regional
Public Schools
Winslow Township Schools
40 Cooper Folly Rd.
Atco NJ 08004
856-767-2850
winslow-schools.com
Winslow Middle School
30 Copper Folly Road
Atco NJ 08004
856-767-7222
middleschool.winslow-schools.com
Winslow Twp. High School
10 Copper Folly Road
Atco NJ 08004
856-767-1850
highschool.winslow-schools.com
Private Schools
Assumption School (K-8)
2122 Cooper Rd
Atco NJ 08004
856-767-0569
St. Joseph Regional High School (9-12)
328 Vine Street
Hammonton NJ 08037
609-561-8700
stjoek12.org
St. Augustine Preparatory School (9-12)
611 Cedar Avenue
Richland NJ 08350
609-697-2600
hermits.com
Daycare/Preschool
Clementon Kindercare
35 Broadacres Drive
Clementon NJ 08021
856-783-5401
kindercare.com
Malvern School of Erial
2920 Erial Road
Erial NJ 08081 NJ 08021
856-784-4100
malvernschool.com
Atco Christian Preschool
2128 Atco Ave
Atco NJ 08004
856-767-1713
atcoumc.org
Public Transportation
Atco Amtrak Station
Route 73 (between Route 73 &534)
Direct access-just minutes away
Berlin NJ
amtrak.com
PATCO High Speedline
Lindenwold Station
895-901 Berlin Rd, Stratford NJ 08084
856-772-6900
ridepatco.org
NJ Transit Bus & Train Information
973-275-555M
njtransit.com
Hospitals
Virtua Hospital, Voorhees
100 Bowman Drive
Voorhees NJ 08043
856-247-3000
virtua.org
Kennedy University Hospital
18 East Laurel Road
Stratford NJ 08084
856-346-600
kennedyhealth.org
Library
Camden County Library - South County Branch
Cooper Folly Road
Atco NJ 08004
856-753-2537
camdencountylibrary.org
Municipal Services
Winslow Township Municipal Complex
125 South Route 73
Braddock NJ 08037
609-567-0700
winslowtownship.com